Simplify Your Life With a Young Baby:  Minimalism & Babies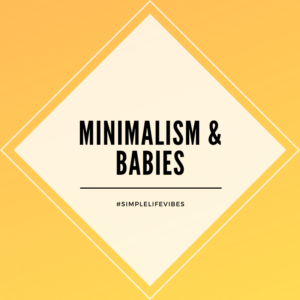 Minimalism and babies don't always go hand in hand. It's amazing how much stuff you actually DO need, and then it's surprising how much the companies market to you to tell you what else you "need" as well! [Hint: you need way less than you think you need.] If you're like me and you want to go minimal (but not necessarily sterile), plus you want to go a little more sustainable when you can, I've compiled a list of things that have worked for us so far (6 months into this whole parenting thing). 
Buy Used.

Not only will this save you boatloads of cash, but baby stuff is often in like-new condition because it gets only a short window of usage. We were able to buy our crib, stroller, play mat, Mommaroo swing and more from Facebook Marketplace for a great deal. 

Borrow.

A friend gave us a bassinet, baby tub, swaddles, wearable carriers, and more to borrow. Most of these things were items you use for maybe a few months, so they barely look worn at all, and I could pass them back to my friends when we were done for them to use on another kid, or to share with someone else. 

Buy to sell.

One thing we ended up splurging on was a Snoo. Yes, they're pricey, but we purchased it used and then re-sold it when we were done using it. Not only is this a more sustainable way to do it, but it literally was net-zero on our pocketbook. 

Multiples Make Life Easy.

You don't need a TON of multiples. But, remember those wearable carriers I mentioned a friend let me borrow? We kept one in each car and one in the house. This way, we could always find one for store trips or on-the-go. Sometimes simple is not minimal and in this case it made our life so much easier to have a few, but in multiple locations. 

Versatile Gear.

One of the ways we've simplified the baby gear is by getting versatile gear. What I mean by that is getting stuff that works in multiple scenarios. Instead of keeping two strollers, we landed on just one that is a jogging stroller. It works on our dirt road at home well, but also works well in the city, or if we literally want to go running with it. Another great versatile piece of gear we purchased was the Brica travel bassinet (bought it used). I love this thing. We're just now almost grown out of it at 6-7 months old, but we traveled on a plane with it (fits in a large suitcase). We love this thing and how we've been able to use it in our camper, for naps on the go at other people's house, travel on planes, and even around our house during construction projects when we've had to be flexible where naps happen. (Both of these items I just shared about were things I purchased through Facebook Marketplace for a fraction of the brand-new retail price. 

Amazon Subscribe & Save.

We LOVE this service and as longtime Amazon Prime members, it was a no-brainer. We have our baby wipes on a rotation of auto-shipping. I wish I could estimate what size diapers we'll need each month, because if we could, we would have a subscription for diapers too. (We also subscribe to things like dog food, shampoo, soap, cleaning supplies, and other household regular staples. This has just made life in general much easier with having a baby. I simply don't have to think about when and how to buy many of these household items.)

Pass along items when you're done.

Whether you pass them onto your storage unit, or you pass them along to a friend, or get them out of your house another way, once you're done using an item, get it out of your main living space. This will help you avoid creating sentimental items that you feel the "need" to save. You also bless others by passing or lending out items that they can avoid buying themselves. We have a designated spot for all clothing items to go as soon as we outgrow them so that they don't clutter up our main living areas. We also just outgrew using the baby swing and we had two, but one we really didn't use much, so it's moving on to a friend who can use it. Just having this mentality of keeping things moving will help you avoid the buildup of stuff.

Don't buy toys.

We haven't purchased a single toy for our child yet. We were given so many toys as hand me downs and as gifts that we really haven't needed to purchase any toys. 

Amazon Wish Lists.

We started an Amazon Wish List for our kiddo and as I come across ideas of toys, games, or other items that would be good as gifts, I add them to the list. I'll update this year after year as she grows older and then family have a go-to spot for ideas. 

College Savings Plan.

Set up a college savings plan as soon as you can for your kiddo. This gives people the option to give college money instead of "stuff" for gifts and when kids are super young, this is a great option. Once they know what presents are, you can shake it up, but making it easy for people to contribute if they want to means less clutter of unnecessary gifts in your home. (Or at least that's my hope when we gift our nieces and nephews this way when they're young.) 
Simplicity with a baby in tow can be difficult, but it's not impossible. Yes, you have more stuff in your life and minimalism often feels like a lost cause. However, a few simple moves can help you get through the infant and young baby phase with a few less gray hairs and a lot more joy!