Gluten Free Lasagna Recipe
Do you love a good night of comfort food?
Do you love having an easy meal for a large group?
Do you love a meal that you can easily pull out for leftovers?
Look no further!  This lasagna recipe is as easy as it is delicious and even if you are not the most natural cook (like me!), I promise you'll be able to wow your dinner guests and your taste buds with this simple and healthy meal!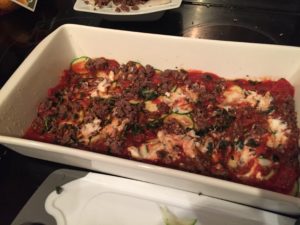 Lasagna has historically been known as a great comfort food, but can often be a heavier meal, full of carbs.  However, after one especially large zucchini harvest, I discovered that lasagna doesn't have to have all those noodles.  You can actually make a delicious meal that is naturally gluten free and sneak in a few veggies in the process.  I also discovered that this meal works great to make in bulk and freeze for the future.  I'm all for making my life more simple and this dish fits the bill!
Ingredients:
1.5 Jars of Pasta Sauce (I typically use Classico brand.)
3 small zucchinis, or 1 large zucchini
1/2 cup frozen spinach
8 TBS Ricotta Cheese
3 cups shredded mozzerella
1 lb ground meat (your choice, we use venison or elk most of the time)
1 can diced tomatoes
Italian Seasoning spices
Instructions
 Spray the bottom and sides of your pan with your choice of oil.  We have switched to mainly olive oil.
Thinly slice your zucchini using a knife or a mandolin slicer.  Be careful!  Slice long-ways if you can.  If you're dealing with small zucchini's (like what you typically buy in a grocery store), you'll probably need to just slice them into circles.
Brown your ground meat with a little bit of Italian seasoning.
Lay your raw zucchini slices as the bottom layer in your pan, taking care to cover all openings as much as possible.
Add the filler layer.  You can really do in any order, but I usually do some pasta sauce, some diced tomatoes, a handful of ground meat, 2-3 tablespoons of ricotta cheese, a handful of mozzarella, and a handful of your frozen spinach pieces.  Using a spoon, mix and spread these ingredients around a little to make sure it's even across the entire space.
Add another zucchini layer.
Repeat the filler layer.
Keep adding new zucchini and filler layers until you are at the top of your pan.  Typically, this will be 3-4 layers.  Add the remaining mozzarella cheese to the top.
Bake at 350 for 45 minutes, or until cheese has browned just slightly.
*I love making 3-4 of these zucchini lasagnas in disposable baking tins.  They make great meals to send to friends in need and they make a great easy dinner on nights where life got the better of you!